Impressive Talent Agency is a one-stop event management & entertainment company based in Penang & Kuala Lumpur Malaysia. We provide start-to-end services required to make your event successful, entertaining and memorable to all the guest. We assure you that we only engage high quality emcees, dancers, singers, live bands, models, clowns, and all sorts of entertainers and stage performers, sound-system & lighting equipment for all occasion. We also provide professional designers for the best hall, stage, entrance decoration with our high quality LED & printed backdrops, Balloon Sculptors, Florist, and Fabricators. With many years of experience and passion, let us assure you that we provide our services with enthusiasm and excitement!
Our Services
Emcee
Balloon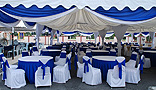 Canopy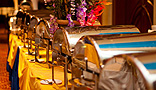 Food Catering
Clown & Facepaint
Cultural Dancers
Modern Dancers
Theme Decoration
Game Show
Sound & Lighting
Live Band
Launch Gimmick
Just plan your budget and let the professional event management company handle all the arrangements and planning for you. We have managed numerous events and various functions, such as opening ceremonies, product launching, annual dinners, wedding parties, road shows, and more! Besides this, we also organize various types of exhibitions and stage performances upon request.
For some small events like house warming, gathering, and birthday party that can be managed by yourself, we can rent canopy, tables & chairs, sound system & lighting at your affordable price. Photography, videography and food catering services can be arranged too.
For great events like product launching, road shows, seminars & exhibitions that require publicity and promotion, we can print and distribute flyers or place banners at strategic locations to announce your event to the targeted community.